Scav Raiders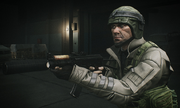 | | | |
| --- | --- | --- |
| " | A shady group of armed people who, according to rumors, consist of former PMC operators and local residents. They possess great combat and tactical skills. | " |
| | ~ In game description | |
Scav Raiders are a faction in Escape from Tarkov.
Raiders have different health values than PMCs and other Scavs.
Raider Health
Stats
Please note, Head has 40HP, not 35HP

Head: 40

Thorax: 140

Stomach: 120

Arms: 100 each

Legs: 110 each

Total: 720
Scav Raiders are advanced Scavs that are considerably stronger and more tactical than everyday Scavs. They fight in groups, often patrolling the Lab and Reserve in small squadrons of three/four members, and employ multiple different weapons and tactics, not afraid to flank, rush, and pin down intruding PMCs. Extreme discretion is required when facing Raiders, as unprepared players will often be shot down almost instantly. Raiders often say voice lines while patrolling or fighting, and are easily distinguished from Scavs when speaking English.
Scav Raiders only have a nickname, many of which represent carnivorous animals. Below is a list of the different nicknames they can have:
Akula
Assa
Balu
Barrakuda
Bars
Berkut
Bob
BZT
Dikobraz
Gepard
Grif
Grizzli
Gyurza
Jaguar
Karakurt
Kayman
Kobra
Kondor
Kuling
Leopard
Lev
Lis
Mangust
Mantis
Medved
Orel
Pantera
Pchel
Piton
Radar
Rosomaha
Sekach
Shakal
Skorpion
Stervyatnik
Tarantul
Taypan
Tigr
Varan
Vepr
Veteran
Volk
Voron
Yaguar
Yastreb
Lyutty